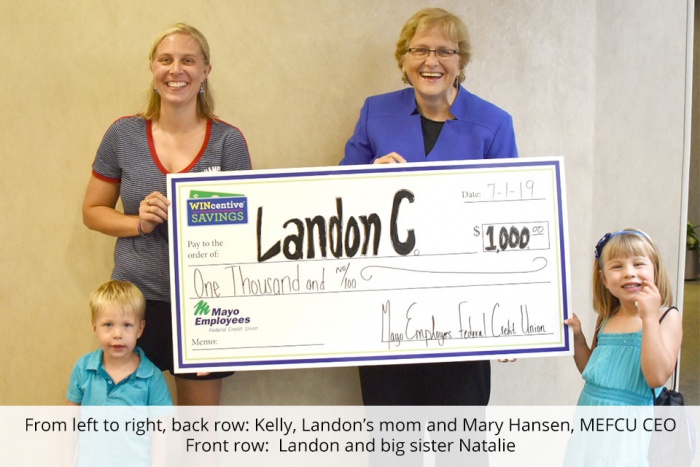 ---
Congratulations to our latest $1,000 WINcentive Winner Landon!
---
Mayo Employees Federal Credit Union is excited to announce our latest big winner from the WINcentive Savings program is two-year-old Landon! This savings program is available to Minnesota and Wisconsin residents and gives each participant the chance to win cash prizes throughout the year.
Kelly, Landon's Mom, is glad they chose this program because, "It's an easy way to save and gives you a chance to win money, who doesn't love that! Not every day does a two-year-old win something, especially $1,000. Pretty lucky and thankful!"
When asked what they would do with their winnings she stated, "We already put it back into his WINcentive account and Youth Certificate to keep those accounts growing for his future. Oh and definitely celebrate with some ice cream!"
That sounds like a great way to keep building savings and to celebrate the $1,000 Win! Congratulations Landon!
Don't forget to check out the details on WINcentive, maybe you'll be the next lucky winner! Plus, open a Youth or Teen Certificate today if you haven't already to start saving more.