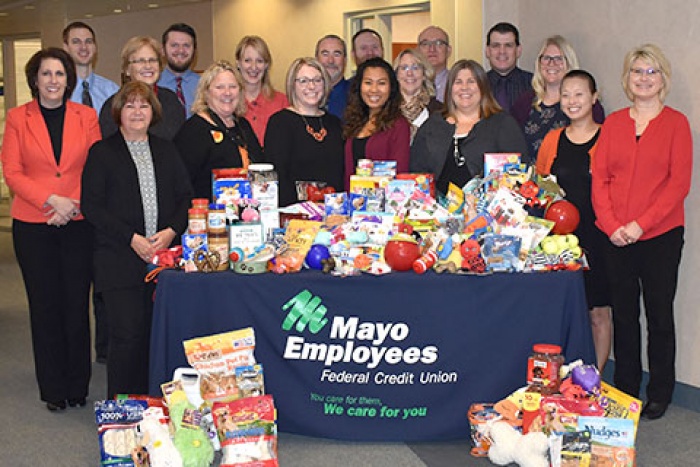 ---
We hosted our 5th annual Caring It Forward Day, offering three ways to give back to our members and community, during the third week of October.
---
Staff at Mayo Employees Federal Credit Union (MEFCU) celebrated Caring It Forward Day, a Minnesota statewide credit union service day. Members had the opportunity to bring in documents to be shred and new this year, MEFCU also offered a Flu Shot Clinic and Paws & Give Back, a collection for Paws and Claws Humane Society.
As a service for members, MEFCU provided secure document shredding throughout the day on October 14th at the Cascade Lake and 41st Street locations. Together, the two offices collected over 3,500 pounds of paper to recycle and shred, which equals approximately 42 trees!
MEFCU's community partner, the Hy-Vee Healthy You Mobile Unit, provided the Flu Shot Clinic at the Corporate Gardens adjacent to the Cascade Lake Office. Flu shots were available to members from 11 a.m.-1 p.m. In those two hours, over 90 members were able to get their flu vaccine!
The Paws & Give Back donation drive ran from October 14-18 at all Rochester Offices. MEFCU collected items and cash to donate to Paws and Claws Humane Society. Items donated include peanut butter, rawhides, treats, dog and cat toys, new leashes and other pet accessories. In addition to all the pet items, members also donated $624 which will be matched by MEFCU for a total cash donation of $1,250 to Paws and Claws.
When asked about Caring It Forward Day, Mary Hansen, CEO, stated, "Every year, I am impressed with our staff and the community's commitment to come together and give back. We are pleased to continue this tradition by giving to the Paws and Claws Humane Society this year. We extend our thanks to this amazing organization for their impact and care of the most vulnerable animals in our community."
Thank you to all who participated in this year's event!