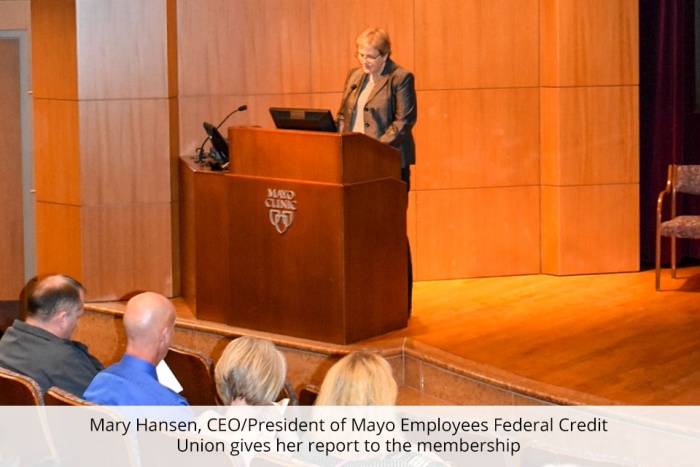 ---
Thank you for joining us at this year's Annual Meeting!
---
The 86th Annual Meeting of the Membership of Mayo Employees Federal Credit Union (MEFCU) was held on April 9, 2019. Financial results for 2018 were presented as well as reports by the Board Chair, Kristie Jacobson, Supervisory Committee Chair, Jordan Coffey, and Chief Executive Officer, Mary Hansen.
Elected by general consent to fill the five open board positions were Steven Thicke, Patrick Steward, Adrian Dingley, Lynn Frederick, Michael Ryan. A special thanks to Jackie Moen who is ending her volunteer term on the Board of Directors. Thank you Jackie for all of your hard work and congratulations to our new board members!
We would like to recap highlights from our 2019 Annual Meeting. The membership heard from Kristie, Jordan, and Mary about our 2018 growth and changes.
Kristie outlined our 2018 growth of:
Assets hitting an all-time high of $956 million, showing an 8 percent growth rate
Increased YTD net income by 29 percent
Membership grew 5 percent
We disbursed over $145 million in consumer loans, MEFCU's largest total ever
Mary covered our industry accolades, new product development, and staff recognition:
MEFCU received an A+ rating from DepositAccounts.com
Bauer Financial, Inc. named MEFCU one of the strongest financial institutions in the nation
SNL Financial named MEFCU as a "Best Performing Credit Union"
Forbes recognized MEFCU as a Best-In-State Credit Union
New products of Youth and Teen Certificates
Our website refresh in the last year
Marketing Award for our football-themed fall campaign, Kick Off Your Family's Financial Game Plan
Enhanced Lending Platform ahead in 2019
Jordan highlighted the work of the Supervisory Committee and the auditing evaluations that MEFCU receives annually:
CliftonLarsonAllen confirmed our financial conditions remain strong
Wipfli, LLP, in their report on MEFCU's internal controls also provided a very favorable assessment of policies and procedures in each of MEFCU's operational areas
Throughout our report we covered The Credit Union Difference with several member testimonials on various staff members as well as a Did You Know? section!
Did You Know? In 2018...
We helped members finance their dream home by distributing over $120 million in mortgages!
MEFCU had a record year for new memberships with over 4,770 new members!
Our Call Center offered personalized service by answering over 88,580 calls!
We gave away $5,200 to WINcentive Savings Winners!
Our Credit Counselor presented financial education to over a thousand new Mayo Nurses!
Get the full report in-office at any location by picking up a copy of this year's Annual Report!