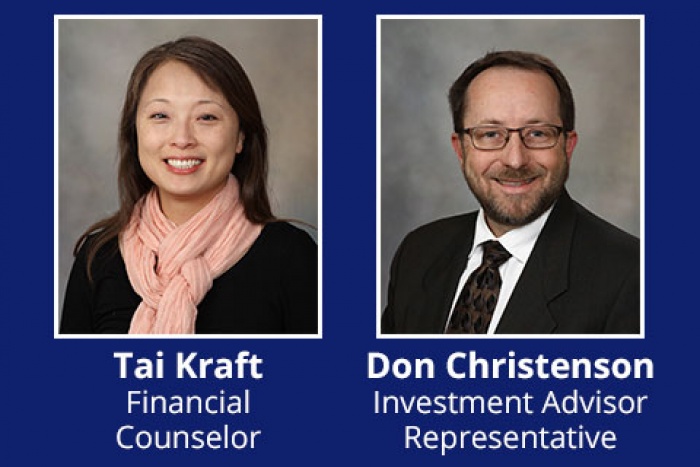 ---
During these uncertain times, it can be hard to know what to do next. Tai and Don go over questions you may have on the CARES Act, furloughs, retirement funds, and more.
---
Tai Kraft answers questions about the CARES Act, PSLF payments, budgets, and unemployment:
Now that withdrawals are being allowed from retirement accounts under the CARES Act, in what instance is it a good idea to take money out?
From a budgeting and cash flow standpoint withdrawals from retirement accounts should be used as a last resort. There are many steps you can take before taking this step.
First, reduce all non-essential spending and then consider refinancing debts you have to reduce expenses. Next, explore options such as a Debt Management Plan for credit card debt, selling things you don't need, and working part-time jobs to help keep your finances in balance.
Mayo Employees Federal Credit Union has options available to ease financial stress, including payment deferrals and loan payment flexibility.
I received notice from my student loan servicer that from March 27, 2020, through September 30, 2020, my loans are in administrative forbearance. Since payments aren't required during this period, how does this work for the Public Service Loan Forgiveness (PSLF) program?
The CARES Act places Federal Student Loans into a special administrative forbearance and temporarily sets Federal Student Loan interest rates at 0%. If you opt to remain in this administrative forbearance, the non-payment SHOULD count towards your PSLF payment count. If you can afford to continue making payments you should do so! These payments will count towards the PSLF program.
If I am impacted financially; either by being furloughed or having my salary or hours cut what is the best way to continue to pay bills?
Your financial goal during this time should be to make it through the pandemic with your finances intact. That said, if you're willing to make short term changes, you will fare better.
Things you can do now:
Prioritize your bill payments: housing, insurance, auto loan, and basic food needs should all be taken care of first.
Check to see if you can receive assistance with any of your bills through a payment plan, partial payments, public assistance, etc.
Cancel anything and everything that isn't 100% essential.
Talk with your lenders about options they may offer: loan modification, payment deferrals, short-term interest-only payments.
If you are struggling to figure out your financial plan, help is available. Contact me for a personalized, non-judgmental assessment and action plan.
What is the best way to add to my emergency fund right now? With reduced work hours and furloughs happening, it is hard to make it happen through regular paychecks.
If you don't have enough wages to put money towards your Emergency Fund, don't borrow money or withdraw from your retirement to boost your Emergency Fund savings.
Hopefully, this is a short-term financial hardship; but right now your priorities will most likely need to shift from building up your emergency savings to spending less so that your monthly finances remain in balance. Keep expenditures which satisfy your basic needs, cut everything else. If you find you now have a little money left, you can contribute to your Emergency Savings.
I receive unemployment, is this taxed?
It's best to assume your unemployment benefits are taxable and to have taxes withheld if you can afford it. It's also a good idea to contact a tax professional to get a general sense of your tax obligation, especially if you can't afford to have taxes withheld right now.
When you return to work, talk with a tax professional. They may recommend you take steps to address tax liability, such as increasing your withholding amount.
How do I spend less on groceries when my entire family is home all the time?
Your family's meals can be affordable and nutritious! Resources such as Choose My Plate contain many helpful tools, including menus and recipes. Additionally, check out your state's university extension programs which often contain food/nutrition resources, plus tips to spend less on groceries. Check out these food saving tips from the University of Minnesota's Extension program.
Quick tips:
Shop online – you can review your cart before finalizing your purchase
Shop at less expensive stores
Bring a list and stick to it
I feel overwhelmed, who can help me figure out my finances?
Contact us.
I am our full-time Financial Counselor and can help you develop a game plan for your week-to-week finances and we also have Cetera Investment Advisors who can help you determine your long term financial goals.
---
Don Christenson answers questions about retirement accounts:
With the stock market and economy impacts from the COVID-19 continuing to potentially affect investments, including retirement accounts – what should I do? Should I transfer my money into a different type of savings account?
Market fluctuation is a typical component of investing. Generally speaking, you should have 3 to 6 months living expenses set aside in a safe account such as a federally insured money market or certificate of deposit. If you have an adequate emergency fund and don't have any major expenses coming up, you shouldn't make any changes to your long term investments without consulting a financial professional.
With all the economic turmoil from COVID-19, how will this impact my retirement savings account balance?
You will most likely see high volatility in your retirement investment accounts if they have mutual funds or similar market-based investments. March of this year was particularly hard for the stock market, although April was much better. As we work through this pandemic it would be reasonable to expect more volatility then you're accustomed to, especially after nearly 10 years of relative market stability.
How much should I continue to contribute to my retirement account? My employer usually matches up to a certain percentage, but right now they are not doing that because of budget deficits.
If you can financially afford to continue your retirement account contributions then you absolutely should. Remember that you are putting funds into those accounts for your retirement. While it's nice to have the employer match, you shouldn't rely on your employer savings for your retirement.
How can I best protect my retirement account right now?
If you're close to retirement, you should be working with a financial professional to develop a plan and create an appropriate allocation for your retirement. If you have a decade or more until you'll need the retirement assets it's still a good idea to create a plan, but you shouldn't give up on market-based investments now. After the current crisis is over (and it will be over eventually) you should see your investment accounts recover and grow.
Is now a good time to consider retirement?
If you are within a few years of your planned retirement, you may be able to retire now depending on your financial situation. Now is a terrific time to revisit (or create) your retirement plan to make sure that retirement now is a financially sound decision. Because retirement often means changing from a "net saver" to a "net spender" of your assets; it is critical that you work with a professional to determine if your retirement plan is sustainable for the long term. This is even more important with the recent market volatility and uncertain near term prospects of the economy. If you are not currently working with a professional or would like to get a second opinion, we are pleased to provide that service.
Investments with Cetera Advisor Networks LLC are:
Not NCUSIF insured

May lose value
Not Credit Union guaranteed

Not a deposit
Not insured by any Federal Government Agency
Neither Cetera Advisor Networks LLC nor any of its representatives or agents give legal or tax advice. For complete details, check with your tax consultant or attorney. All investing involves risk, including the possible loss of principal. There is no assurance that any investment strategy will be successful. Cetera Advisor Networks LLC is located at Mayo Employees Federal Credit Union, 130 - 23rd Avenue SW, Rochester MN 55902. Phone: 507-535-1460. Donald J. Christenson is a Registered Representative of and offers securities and *investment advisory services through Cetera Advisor Networks LLC, member FINRA/SIPC, a broker-dealer and a Registered Investment Advisor. Cetera Advisor Networks LLC and Mayo Employees Federal Credit Union are not affiliated companies.
This site is published for residents of the United States only. Registered Representatives of Cetera Advisor Networks LLC may only conduct business with residents of the states and/or jurisdictions in which they are properly registered. Not all of the products and services referenced on this site may be available in every state and through every representative listed. For additional information please contact the representative(s) listed on the site, visit the Cetera Advisor Networks LLC site at ceteraadvisornetworks.com.